I've never been quite sure why there is more value to a Chanel item when you can find it pictured on the runway or on a favorite celebrity, but it is definitely a strange truth. I started collecting Chanel catalogs almost two decades ago when Chanel sent them to everyone. Now they have an algorithm to who they send and when and I'm pretty sure the TikTok creator couldn't figure it out, so I just go with it and whisper a little "thank you" when my newest one arrives. The catalogs have always been a mixture of artsy picture books that don't highlight the products at all or a serious index of everything the new season has to offer in bright, beautiful color. Lagerfeld took his liberties with the books making sure they were always exciting and cutting edge, taking the photographs himself, filling them with his current muse and matching them to the ad campaign for that season.
Now over the years I count the hunt for the match as a favorite part of my job. Not only does it help me in authenticating items, it helps me catalog the collections in a different way, as in a catalog in my head that has become second nature. I can easily match items to seasons dating as far back as 40 years or more, I know the names of collections and the back story behind them. I see the correlation between Coco Chanel and the creations Lagerfeld made to pay homage to her. I remember the models and celebrities who attended the shows, what they wore, why it became so popular and I know instantly when the newer collection has recycled it to a more current version. When you know Chanel, you come to realize everything comes full circle and most of the collections have a bit of vintage in them somewhere.
Mostly all this time and energy dedicated to this business gives you, the buyer, a sense of security. I will never sell a Gripoix necklace with a color of glass that wasn't yet created for Chanel because somebody put a real Chanel hang tag on another brand of necklace, I will never sell a pair of Paris-Egypt earrings marked with 2015 because I know they didn't exist yet. I will always try to have provenance so you will always know what you're getting and that is something the newer, larger websites can't offer you because it's impossible to know what I know unless you've dedicated your life to it. So here I go again, always on the hunt.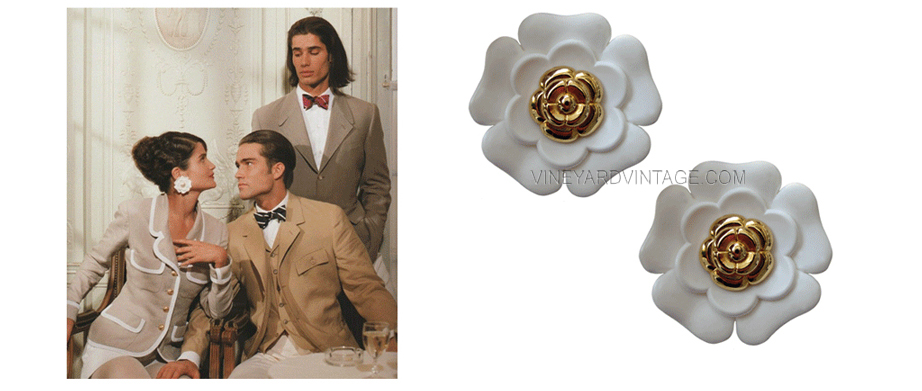 Blog
Have you ever wondered about the "House Ambassadors" and "Friends of the House" of Chanel that are f …

Most people who love Chanel know that Gabrielle was a very superstitious woman, but lesser known is …

Have you often wondered what became of Lagerfeld's beloved cat Choupette? The cat who had modeling g …